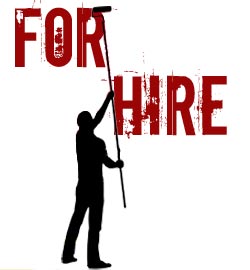 If you saw David Cancel's presentation at Angel Bootcamp or read Healy Jones's recent post on how founders in Boston are "Students who stay," you know that the issue of student retention is on the mind of a number of members of our community. In honor of Scott Kirsner's "Innovation Month" and his challenge to local bloggers to write about "something that is happening -- or should be happening -- here to make the innovation scene in New England even better?" I'd like to share how I think we can dramatically improve our retention of students: Hire them.
How New England's Startup Ecosystem Can Improve it's Retention of Students in 5 Easy Steps
1) Recognize we have more than 2 schools in the area
What do Matt Lauzon, Jason Jacobs, Will Sulinski, and Cort Johnson have in common? They're all young entrepreneurs you may know, but while they all went to New England universities, none of them went to Harvard or MIT.
Now, I don't want to take anything away from either of those excellent universities; they act as amazing anchors to all the innovation in Cambridge and educate incredibly gifted students, some of which go on to make incredible contributions to the entrepreneur ecosystem. However, more importantly, we need to recognize a serious, regional competitive advantage we have here: a higher concentration of students than other entrepreneur ecosytems.
As David Cancel mentioned in his presentation, he loves Northeastern students, because "They're scrappy. They feel they've got something to prove and they're really, really hungry." I bet you could say that about a lot of the local universities.
2) Every Startup With Investment Should Have Interns
Question: Where can you find help for your startup that's inexpensive and can't wait to learn and contribute?
Answer: Interns from your local university.
This is not bold thinking. Great local startups like SCVNGR (40+ employees), oneforty (6 employees) and Blue Leaf (less than 5 employees) already have utilized interns to their advantage. Startups are cool again, so there's a great opportunity to tap into the local university system to find great talent that's eager to learn and prove themselves.
And remember, this is not about charity; think of them as inexpensive auditions for full time roles at your company. That's been the secret for big companies for years; they get hundreds of interns and many of them look to their intern employer again when they graduate. Let's poach a few from the big guys and add more young talent to our ecosystem.
3) Leverage the Local University Programs that exist
Many schools across New England have recognized the value of internships for their students, especially in entrepreneurship and work to make it easy to set up internships at your company. You can see a list of many university entrepreneurship programs in the area in our resource section here on Greenhorn Connect, but I'd like to highlight 3 specifically:
Northeastern University: After going to Northeastern and experiencing their co-op program, I can't imagine going to school anywhere else. I cannot put a price on the experience I gained in my three, 6-month co-ops. They've been doing it for over one hundred years, so they've got it down to a science. Learn more here.
UMass Venture Development Center (VDC): UMass Boston has created an amazing program recently when they launched their Venture Development Center; they offer office space and direct connection with talented UMass students to work for you during your time there. It's a truly gorgeous space and the people who run it are passionate about making a difference for their students and the startup. Learn more here.
University of New Hampshire High Tech Entrepreneurial Internship Program: You're not limited to Boston to find great schools and interns in New England. At UNH, they're focused on placing great students from UNH at startups in the area. Learn more here.
These are just 3 of the schools in the area. While some may not have formal programs, all of them have talent, so don't be afraid to make a simple phone call to a department at a local school and ask if they have any great students looking for an internship.
4) Hire Unproven Talent Part-Time
When I graduated my master's program no one has heard of last August, I had a tough time finding a job. It wasn't until John Prendergast gave me a part time job working for him that things started to turn around. He got some much needed help at an inexpensive rate and I got the chance to prove what I could do. 4 months after I started working for him, I found myself with a new opportunity that directly related: a chance to join oneforty's team. John is on their board. Do you think it's a coincidence I was able to get my foot in the door there and take on a job that allows me to "punch above my weight class?"
Take a few chances on young people and let them wow you. If you can't hire them full time, help them find a great spot for them in the ecosystem. When they stay, we all win and I guarantee they will not forget how you helped them.
5) Look for Young People Raising Flares that Show They're Talented
Over the last 6 months, I've watched many young people in the ecosystem make bold moves to show their talent. We need to recognize these people quickly and feed them into the system. Here's two quick examples:
Jake Cacciapaglia, DartBoston: Jake and Cort built DartBoston into something amazing and special in very short time. Is it any surprise that after helping build DartBoston's community that Jake is now crushing it at RunKeeper as their community manager?
Kristin Dziadul, KDmedianow.com: You don't have to build a young entrepreneur ecosystem to show you have talent; Kristen built this website to show off her talents which got the attention of Dharmesh Shah, who led her to working for one of the companies he invested in, Backupify.
So next time you see someone willing to put themselves out there as a young person, understand how much of an indicator that is; it's downright scary to take that chance and so anyone bold enough to do so is definitely worth a look. Do you want someone else to get that talent at their company? Jump on it. John gave me a chance because I showed up to the unConference and wrote a blog post about his presentation. This isn't hard. Take a few chances and show students there's a path to get in. You'll be surprised who may follow.
In the end, this is all about engaging young people and showing them paths to make this a career. Not everyone is going to start a company in college or right after. Some will work for an early stage startup as I do, and others will work at larger, anchor companies like TripAdvisor, ZipCar, etc. If we all do our part to reach out, we will retain our talent and have our ecosystem bursting with smart, ambitious, hard working young people.
Have you hired a young person lately?